| | | | |
| --- | --- | --- | --- |
| FRIENDLY & TIDY | AFFORDABLE PRICE | LATEST TECHNOLOGY | GUARANTEED WORK |
SANDING FOR YOUR NEW PARQUET FLOORS
The shapes, the grain, the shine, the beauty...

What is marquetry on furniture becomes parquet on the floor - wooden blocks arranged in geometric patterns to impress with the contrast in grain and add an air of class to buildings large and small.
But the effect only works when the floor is looked after..
Age and wear will have their inexorable say - but bringing your old floors back to life is straightforward when you call upon the services of the right company.
FLOORS PARQUET REFINISHING CO.
An experienced family firm who have restored all kinds of parquet floors
Whatever their age and level of condition
and in every setting: domestic and commercial -
the office or shop; bar or restaurant; gallery or museum; school or sports hall.
What is floor sanding?
It involves using machines to remove old layers of sealant, paint and varnish to leave a fresh smooth surface ready for a new layer of protection.
Isn't it messy and disruptive?
Not the way we do it. Sanding has been notorious for creating lingering amounts of dust..

But we seal off doors and windows; our modern cylinder machines are efficient; and they collect dust from outside each room
for 99% dust free sanding!
TRUSTED BY THESE WELL KNOWN BRANDS AND HUNDREDS MORE
I'm not sure about the kind of new floor I want..
We're here to give you the best advice! We'll take a close look at your floor and run through the options.
And find what you would like. A showpiece perhaps, to impress guests and customers...
Or a practical hard-wearing surface to withstand heavy footfall.
Or a combination of both!
Sealant and stains come in a huge variety - both natural and synthetic. We'll demonstrate their qualities to help you make the right choice..
We'll itemise the cost of each stage of the restoration process, so you can choose the most appropriate package for your needs.
What are your credentials?
In the floor restoration business for over twenty years. All our staff are trained by us to the exacting standards of the national trade body - the National Wood Floor Association (NWFA). Some have been with us since we began!
What about upheaval to my home or business?
We'll keep intrusion to a minimum. We can work flexibly to suit your schedule - at weekends or even overnight if required.
Rooms need to be cleared - so allow us to ease the burden. We can move large items of furniture. Carpets or floor coverings? We can remove these to another room - or dispose of them responsibly.
Before you start.. where did parquet come from?
Designed for the 'Sun King' Louis the Fourteenth in the late 1600s - as an alternative to the marble floors at the Palace of Versailles. These required constant washing down, causing the water to rot the underlying joists.
Today, tropical hardwoods create luxury floors, yet the mass production of wooden blocks brought parquet within reach of more everyday properties. Thousands of dwellings built from the 1930s to the 1970s still enjoy the benefits of parquet floors.
OK - so how will you give me floors I can be proud of?
First is to secure loose blocks and ensure a level surface if the underfloor is damaged.
We can fill in missing areas or replace old blocks with matching material. These can be from another room it the parquet there is not being restored.
Parquet blocks come in a bewildering variety of shapes and sizes. We can source reclaimed materials from all over the country. If necessary, we can cut blocks down to size.
Gaps can be filled with a mixture of wood dust and resin.
We can also remove old features such as hearths - and cover the space with fresh blocks.
Sanding away
This is a skilled job with delicate use of machinery, usually covering three stages:
a rough sand to strip away old sealant; medium for a level surface; and a fine sand for the smooth perfection of the bare wood.
We use smaller handheld machines and sometimes even hand-sanding for awkward corners and shaped floors.
A fresh look?
How about a bright modern look? Or the grainy brown of the traditional glossy wooden floor?
The choice is yours. Staining is optional: a clear stain will enhance the wood grain, while a colour adds depth and a match to your decor.
Just ask for our advice on colour schemes and staining.
Although coloured oils and lacquers are available, it is difficult to maintain an even colour during application - and any damage causes the colour to decline.
Staining and sealing is best kept to two distinct stages. The colour is easier to control and remains unaffected as the sealant wears away.
Essential protection
The final protective covering is vital to maintain the long life and good looks of your floor.
Sealants fall into three categories:
Natural oil: for the traditional classy look fit for a palace.
Hard wax oil; combining harder wear and good looks. It penetrates the wood for a non glossy look – and emphasises the natural grain in much the same way as oil.
Lacquer for the busiest footfall areas. These synthetic sealants are hard wearing and versatile for use in many settings. Modern lacquers give a natural look, and are water- based - so environmentally friendly and completely safe around children and pets.

And with us, quality is key. Your new floor is a valuable feature and investment. We test new products all the time to make sure we only use premium stains and sealants. The surface will prove more durable and provide outstanding long term value.
Each sealant varies in the number of coats required and drying time. We respect the recommended applications from each manufacturer.
And when all is complete: you will admire your beautiful new floor
.. and soak up the appreciation of visitors, guests, staff and customers.
A little after-care
Make sure your new floor surface stays in great shape. Modest after care pays dividends: our advice is on hand, depending on the sealants you have chosen.
Everyday maintenance is straightforward: regular sweeping with a soft brush. Vacuuming is ok but avoid cylinder brushes which can spread grit and scratch the wood.
Use a damp mop for cleaning and avoid excess moisture.
When the floor loses its lustre, apply 'revive' coats of lacquer, after a light sanding-down of the original surface.
Give your property the parquet floors it deserves
Call us today for your FREE assessment.
Call Refinishing Parquet Floors Co. today!
GET A QUICK QUOTE
With over 26 years of resurfacing knowledge,
we're dedicated to

making sure that your wooden floors
always get the best restoration service there is.
LATEST NEWS, RECOMMENDED ARTICLES & TIPS
Protecting your wooden floors from pet damage
If you've invested time and effort into floor sanding and restoration, it's time to think about pets. We're a nation who are mad about our dogs and cats but there's no doubt that dogs, in particular, can ruin your newly finished wood floors. However, with a little thought and some doggy day care you can enjoy having your canine companion around and still have a great looking floor.

Apply a durable finish


Once you've finished timber floor sanding you'll need to think about applying a finish since an untreated floor shows signs of wear and damage very quickly. With a dog around, you'll need a product that is durable and long lasting and will keep the floor looking as good as new for as long as possible. A water-based coating is ideal as this will create a waterproof barrier for your floor, keeping it protected against canine mess. In terms of colour, a lighter floor is less likely to show up any scratches, whereas a darker floor won't show stains from any little accidents. If you're in doubt, contact your floor sanding contractors for advice.
Minimise scratch marks
A scratched wooden floor is never a good look, and short of going through the process of dust-free floor sanding and polishing all over again, you'll need to take some measures to prevent your dog or cat scratching your floors. First, keep their claws trimmed and keep those rough and tumble tug of war games for outdoors. Plenty of rugs and the use of child stair gates to keep your dog out of certain rooms can also keep damage to a minimum.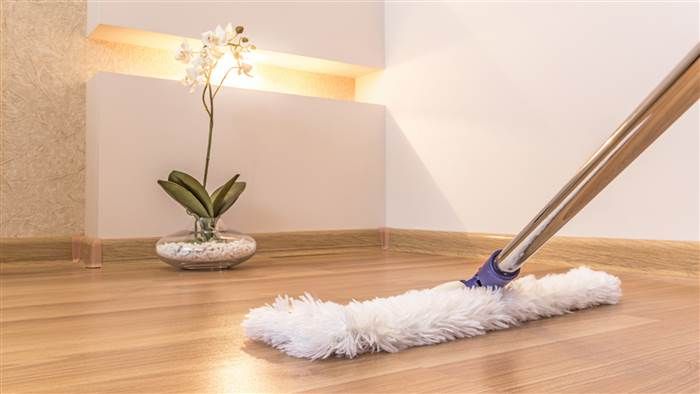 Keep it clean
Little and large dog paws can bring in dirt and grime, which can cause a build up of debris that damages your floors. Regular sweeping and wiping over with a damp cloth is effective at keeping dirt under control. Any little accidents should also be dealt with immediately, as moisture can cause irreparable damage to your wood floor and it's impossible to sand out dog or cat pee stains on light floors. Buff your floors and renew your treatments regularly to give the wood optimum protection, then sit back and enjoy your canine and feline-proofed wood floor restoration.
Refinishing Parquet Floors
Before & After